Muffin Madness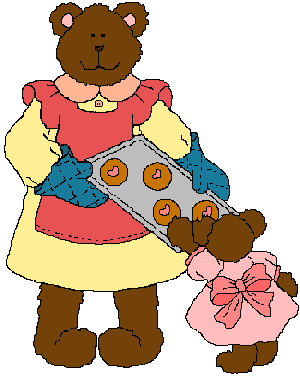 It seemed as if I was getting too many muffins on my breakfast page and hey.. muffins are great for any meal and snacks as well, so I decided to create this page just for muffins.

To freeze muffins:
Uncooked

Muffin batter can be frozen either in muffin cups or in a plastic tub. If you freeze it in a tub scoop it out into muffin cups with an ice cream scoop.

Baked

Put in freezer containers or flash freeze then put in zip bags.
Muffins Recipes on this Page:
---
Recipes
---
Create-A-Muffin
This recipe originally was from the Tightwad Gazette
Grain

2 - 2 ½ cups white flour
may substitute 1 cup with oatmeal, cornmeal, wheat, rye flour, or flake cereal.
or may substitute 1 cup leftover cooked oatmeal -- rice or cornmeal for ½ of flour and decrease liquid to ½ cup.
Use blender to mix wet ingredients

Milk

1 cup milk, buttermilk or sour milk,
or may substitute fruit juice for all or part.

Fat

¼ cup vegetable oil
or 4 tbs melted butter, may substitute peanut butter for all or part of fat
Note: Fat may be reduced or omitted if using a "wet addition"

Egg

1 egg
or 1 tablespoon soy flour & 1 T water

Sweetener

2 T. - ½ cup sugar
or up to ¾ cup brown sugar
or up to ½ cup honey or molasses and decrease milk to ¾ cup.

Baking Powder

2 teaspoons
If using whole or cooked grains -- 3 teaspoons.
If using buttermilk or sour milk -- 1 tsp. baking powder. and 1/2 tsp. baking soda.

Salt

up to ½ teaspoon
Optional ingredients: Additions can be used in any combination, up to 1 ½ cups total. If using more than 1 cup wet additions, decrease milk to ½ cup.
Dry Additions

Nuts, sunflower seeds, raisins, coconut, etc.

Moist Additions

Blueberries, chopped apple, freshly shredded zucchini, shredded carrot, etc.

Wet Additions

Pumpkin puree, applesauce, mashed/cooked sweet potato, mashed banana, mashed/cooked carrot, etc.
If using ½ cup drained, canned fruit or thawed shredded zucchini, substitute the syrup or zucchini liquid for all or part of milk.

Spices

Any that will compliment additions.
1 t. cinnamon with ¼ t. cloves or nutmeg.
2 t. grated orange or lemon peel.

Jellies or Jams

Fill muffin cups halfway with plain batter. Add 1 tsp. jam and top with 2 Tbs. more batter.

Topping

Cinnamon sugar, chopped nuts, oatmeal, crushed corn flakes.

Non Sweet Combinations

Use only 2 T. sugar & omit fruit. Add combinations of the following:
½ cup shredded cheese
3 strips cooked crumbled bacon
2 T. grated onion
½ cup shredded zucchini
2 T. parmesan cheese
1 t. parsley
pinch of marjoram.
Fill greased or lined muffin tins 2/3 full. Bake for approx. 20 min. @ 400F.

Recipe Listing above.........

Kitchen Recipe Box

---
Orange Oatmeal Muffins
1 cup quick-cooking oats
1 cup plus 2 tablespoons orange juice
1 1/2 cups whole wheat pastry flour or unbleached flour
1/2 cup sugar
1 tsp. baking powder
1 tsp. baking soda
2 egg whites
Topping

3 tbs.. quick-cooking oats
1 tbs.. frozen orange juice concentrate, thawed
1 1/2 tsp. sugar
To make the topping, combine the topping ingredients until crumbly. Set aside.

Combine the oats and orange juice, and set aside for 20 minutes.

Combine the flour, sugar, baking powder, and baking soda, and stir to mix well. Add the orange juice mixture and the egg whites to the flour mixture, and stir just until the dry ingredients are moistened.

Coat muffin cups with nonstick cooking spray, and fill 3/4 full with the batter. Sprinkle the topping over the batter. Bake at 350 degrees F. for 14 to 16 minutes, or just until a wooden toothpick inserted in the center of a muffin comes out clean.

Remove the muffin tin from the oven, and allow it to sit for 5 minutes before removing the muffins. Serve warm or at room temperature.

Recipe Listing above.........

Kitchen Recipe Box

---
Granola Muffins
In a large bowl mix well

2 eggs
1/4 teaspoon brown sugar
1/2 cup buttermilk
1/2 cup oil (or 1/4 cup apple sauce and 1/4 cup oil)
1 teaspoon vanilla

In a smaller bowl mix well

2 cup granola
1 cup all purpose flour
2 teaspoon baking powder
1/2 teaspoon baking soda
1/2 teaspoon salt

Combine wet and dry ingredients and fold gently just until mixed. Spoon into muffin cups and bake at 400 for 15-20 minutes. Remove from pan and cool on rack.

Note: Use granolas that are not overly sweet, and that can separate easily.

Recipe Listing above.........

Kitchen Recipe Box

---
Blueberry Buttermilk Muffins
Yield: 24 Servings

2 1/2 c Flour
1 1/2 ts Baking powder
1/2 ts Soda
3/4 c Sugar
1/4 ts Salt
2 x Eggs, beaten
1 c Buttermilk
4 oz Butter
1 1/2 c Blueberries

Sift dry ingredients together in a large bowl. In another bowl, whisk eggs, buttermilk and butter that has been melted and browned slightly. Make a well in dry ingredients and pour in liquid ingredients, mixing quickly. Fold in blueberries.

Spoon batter into greased muffin cups and bake till golden brown. Bake at 400 F for 20 -30 minutes.

Makes 24 muffins.

Recipe Listing above.........

Kitchen Recipe Box

---
Incredible Blueberry Cupcakes/ Muffins
Makes 12

1/2 C Butter
2 Eggs
2 C Flour
1/2 Tsp. Salt
1 1/4 C Sugar
1/2 C Milk
2 Tsp. Baking powder
1 1/2 C Blueberries

On slow speed, cream butter and sugar. Add eggs one at a time and mix until blended. Sift dry ingredients and add alternating with milk.

Mash 1/2 cup blueberries and stir in by hand. Add rest of blueberries, whole. Fill muffin cups high and sprinkle with sugar. Bake 375 F, 25-30 minutes. Remove from pan carefully.

Recipe Listing above.........

Kitchen Recipe Box

---
Sausage Muffins
Recipe by: BH&G All Time Favorite Bread Recipes
Yield: 12 servings

8 oz Sausage; crumble, cooked
1 c Flour
1 c Yellow cornmeal
1/2 c Parmesan cheese; grated
1/4 c Sugar
4 ts Baking powder
2 lg. Eggs; beaten
1 c Milk
1/4 c Oil

Stir together flour, cornmeal, cheese, sugar, baking powder, and 3/4 tsp. salt; make well in center. Combine eggs, milk, and oil; add all at once to dry ingredients, stirring until moist and lumpy. Fold in sausage.

Fill greased muffin cups 2/3 full and bake at 400* for 20-25 min.

Recipe Listing above.........

Kitchen Recipe Box

---
Cheese Muffins
Recipe by: The Best of Vegetarian Times recipe cards.

2 Tbs. chopped onions
2 Tbs. butter or oil
1 egg, beaten
1 1/4 cups buttermilk
1/2 cup grated Swiss or Cheddar cheese
3/4 tsp. dill weed or parsley flakes (or 1/2 tsp. dry mustard)
1/2 cup whole wheat pastry flour
1/2 tsp. salt
1/2 tsp. baking powder
2 1/4 cups rolled oats, coarsely ground into 1 3/4 cups flour

Preheat oven to 375 degrees F. Lightly spray a 12-cup muffin tin with cooking spray.

Sauté onions in butter or oil until soft. Let cool. Transfer to a large bowl and add egg. Stir in buttermilk, cheese and seasonings.

Sift together whole-wheat flour, salt, baking powder, and baking soda. Combine with oat flour. Add cheese mixture, stirring just enough to mix.

Spoon into muffin tin and bake about 15 minutes. When done, muffins will be a pale, creamy color on top and golden brown on sides and bottom.

Note: To make oat flour, blend 1/2 to 3/4 cups of rolled oats at a time in a blender or food processor.

Recipe Listing above.........

Kitchen Recipe Box

---

Click to subscribe to Friendly-Freezer

Back to Friendly-Freezer ................................................ .

Back to the Plan Page

Back to our Home page

... Email me if you have questions, comments or complaints about this web page
This page last updated on December 16, 1999
Copyright © 1998, 1999. All rights reserved.
May be used or reprinted with written permission
This Web site is brought to you by the fantastic people at